Page 146 - 86-Book1
P. 146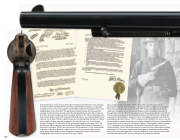 4
 14
In the letter Kopec noted, "Several of the other examples from within this series including #137185, #137203, #137564, #137571, #137621, and #137647 are listed in our data-base
as being in 'new' or 'near new' condition and all of these referenced examples show a Colt shipping date of June 21st 1891."This grouping of Cavalry Models, which includes this example, remained unissued and stored at the Springfield Armory until sold as surplus in the 1920s. An actual receipt to an Armory surplus sold Colt in the 1920s is featured on the dust jacket to Kopec's book "Colt Cavalry & Artillery Revolvers...a Continuing Study." Kopec surmises "the Armory still had a supply of new revolvers during 1898, and kept on finding other supplies of these unissued examples for the next 25 years or so." In our Premier Firearms Auction No. 77 (September 2019) we were privileged to catalog no. 55104, the finest known 1880 production Colt Cavalry Model Single Action Revolver. Today we are honored to catalog no. 137595, the finest known 1891 production U.S. Colt Cavalry Model Single Action Revolver. Based on condition alone, no. 55104 is certainly this revolver's equal. Never did we imagine we would again be extremely fortunate to find another Cavalry Model equal to no. 55104, but here it is: no. 137595!
The accompanying factory letter confirms the revolver was delivered to the U.S. government inspector at the Colt plant on January 20, 1891 in a shipment of 200 guns. The walnut grip features the inspection date "1891" above Capt. Stanhope E. Blunt's
script letter cartouche on the left side and Rinaldo A. Carr's script letter cartouche on
the right side. Carr's tiny "RAC" initials appear on the frame, barrel, cylinder and butt. The "P" proof mark is stamped on the underside of the barrel as well as on the cylinder. The matching full serial number is stamped on the frame, trigger guard, and back strap. The matching partial serial number ("7595") is stamped on the cylinder. The revolver was not disassembled to examine the partial serial number stamped on the barrel underneath the ejector housing out of respect for the superb condition. The assembly or batch number "517" is stamped on the loading gate. The top of the barrel has the typical one-line Hartford address. The left side of the frame has the two-line, three patent dates marking followed by "U.S." The frame, hammer and loading gate are casehardened with striking colors. The screws and trigger have a fiery niter blue finish. The remaining surfaces have the Colt military blue finish. The one piece grip is oil finished black walnut.