Page 238 - 86-Book1
P. 238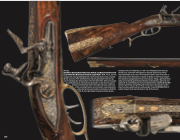 236
LOT 235
Exhibition Quality Relief Chiseled, Gilded, and Raised Relief Carved Leopold Becher Bohemian Flintlock Jaeger Rifle - NSN, 54 cal., 25 inch octagon bbl., blue/gold/bright finish, relief carved walnut stock. Leopold Becher was one of the best Bohemian master gunmakers from the spa
city of Carlsbad (aka Karlovy Vary) in the first half of the 18th century. Due to Carlsbad being an international destination at the time, he gained
wealthy and influential clients throughout Europe, and many of his surviving firearms can be found in royal collections and national museums today. In particular, he held the
title of court gunmaker to General Johann Georg
Christian, Prince of Lobkowitz, in 1726-1727. Multiple Becher firearms,
like this one, are known with Spanish or Spanish style barrels, which
were fashionable at the time. The Ferdinant maker's mark on this rifle is referenced as from Barcelona in relation to Becher in "Der Neue Stockel." The swamped octagonal barrel has seven-groove rifling, a gilt blade front sight surrounded by gold inlaid entwining scroll patterns, gilt notch rear sight with second folding leaf and scroll pattern finial, "LEOPOLD BECHER" signed in gold inlay along with gold scroll patterns and borders on the breech section, gold lined vent, and a golden "crown/FER/DINA/NT/R.A." sunken maker's mark and orb mark on top at the breech.