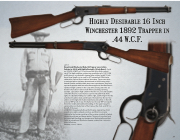 LOT 17
Exceptional Winchester Model 92 Trapper Lever Action Carbine in .44-40 with Highly Desirable 16 Inch Barrel - Serial no. 951923, 44 WCF cal., 16 inch round bbl., blue finish, walnut
stock. This high condition carbine was manufactured c. 1921-1928 and features a very desirable trapper/baby carbine length 16 inch barrel (legal length, so no need for ATF exemption!). Winchester called these "Special Short Carbines" back then. These were never
a cataloged option and were discontinued in 1933 leaving only a limited number available. While they were in production, they were reportedly popular with law enforcement agencies like Winchester's standard length carbines in the early 20th century, and some are known to have been sent to South America making surviving example, especially in high condition like this one, rare and valuable collectible firearms. It also features a pinned beaded blade front sight, an adjustable folding rear carbine sight, saddle ring on the left, and smooth carbine stock and forearm. The barrel has the two-line address on the right, the model, trademark, and caliber on the left; and oval "WP" proof on top. The frame has the oval "WP" on top, the three-line model and trademark marking on the upper tang, the serial number on the bottom of the frame at the front, and "26" to the left of the lever.
CONDITION: Exceptionally fine with 85% plus original blue finish overall, some light scattered scratches, and finish loss mainly confined to the furniture and top of the receiver ring, both of which show a smooth gray and brown patina. The wood is excellent and has some light handling and storage wear. Mechanically excellent. This is an exceptional Winchester trapper carbine that is absent in many collections.
Estimate: 10,000 - 18,000
29
 Highly Desirable 16 Inch Winchester 1892 Trapper in .44 W.C.F.