Page 320 - 86-Book1
P. 320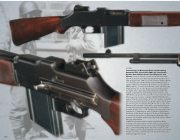 318
 LOT 369
Outstanding U.S. Winchester Model 1918 Browning Automatic Rifle, Class III/NFA C&R Fully Transferable Machine Gun with Belt Pouch, Extra Magazines and Manual - Serial no. X212014, 30-06 cal., 24 inch round bbl., blue finish, walnut stock. Developed and introduced in 1917 (and designated the 1918 to prevent confusion with the Model 1917 machine gun), the Browning Automatic Rifle became a signature American weapon for generations, seeing action in WWII and Korea, as well as on both sides of the law during the "Public Enemy" era of crime. Blade front and folding ladder rear sights, with a plain tubular flash hider threaded to the
muzzle, undated barrel with "flaming bomb" Ordnance and "WP" Winchester proofs. The top of the receiver bears the 5-line Winchester nomenclature ending in "PATENT APPLIED FOR", a unique "X" prefix serial number, with a "F A S" pattern (semi/full/ safe) selector mechanism with the spring loaded catch to keep the operator from accidentally putting the rifle on "safe" when flipping to full automatic. Fitted with a checkered hardwood forearm and a smooth pistol grip stock with a steel buttplate. Included with the lot is a 1918 dated tan canvas magazine belt loaded with 12 magazines, a copy of Ordnance Department Handbook #1934 (dated February 1918), three CD-Rs labeled
as containing information on the Browning Automatic Rifle (contents not checked), and a copy of the book "Rock in a Hard Place" by James Ballou.
CONDITION: Excellent, with 90% plus original blue finish, showing some light scratches on the receiver (concentrated around the takedown levers), some areas of emerging brown patina, and mild handling marks. The stock is very fine, with some chipping on the checkering and around the screw on the forearm, a hairline crack forming in the top of the wrist, and mild handling marks overall.