Page 343 - 86-Book1
P. 343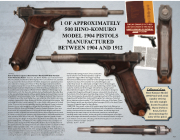 LOT 432
Extremely Rare Japanese Hino-Komuro Model 1904 Blow Forward Semi-Automatic Pistol - Serial no. 126, 8 mm Nambu cal., 8 1/2 inch round bbl., blue finish, checkered hardwood grips. This is an extremely rare example
of a Japanese Hino-Komuro Model 1904 blow forward semi-automatic pistol, also referred to simply as the "Hino" or "Hino-Handgun". It is believed there
were approximately 500 or less of these pistols in total manufactured by the Komuro Gun Factory in Tokyo between 1904-1912. They are believed to run
in a continuous serial range as offered in 5mm, 6.35mm, 7.65mm Luger and 8mm Nambu, with this desirable example being chambered in the latter. Due
to the overwhelming majority of these pistols being destroyed, there are only
a handful of surviving examples today. According to the book "Hand Cannons of Imperial Japan" by Harry Derby, there was only one other known surviving example chambered in 8mm Nambu at the time of writing, serial number 184, indicating this pistol, serial number 126, is one of only a few extant of its kind today. These pistols were designed by inventor and Imperial Army Lieutenant Kumazo Hino at only twenty years of age and financed by civilian Tomojiro Komuro. With the financial backing of Tomojiro Komuro, Kumazo Hino, who would later gain national fame as a successful aircraft designer and Japan's premier aviator, originally had intentions of being able to export these pistols
to China in order to assist in arming the revolutionaries, and unfortunately the plan would fail after only a few years. The original Japanese patent number 7165 covering the design of these pistols was filed on December 7th, 1903 and granted March 5th, 1904 (Meiji 37). The Japanese military was so impressed with this pistol design that War Minister Masaki Erauchi personally endorsed
the application for a "world" patent. It is also covered under U.S. patent number 886,211 filed September 23rd, 1904 and renewed April 28th, 1908, as well as a British patent filed on March 5th, 1907 and granted March 30th, 1908. This early semi-automatic blow forward pistol functions in a completely unique way when compared with other Japanese military pistol designs throughout history. For cocking, the barrel is able to be gripped on the exposed serrations and pulled
forward under spring pressure. Once cocked, the
barrel remains in the forward position, ready for
a pull of the trigger. When the trigger is pulled,
the barrel assembly travels rearwards under spring pressure and
slams the rear face of the chamber into a fixed firing pin, and
under the pressure of a detonated cartridge it moves forward again, simultaneously ejecting a spent case and chambering another round,
ready for another pull of the trigger. It feeds from a spring-loaded
detachable box magazine with a wooden base, very similar in design to
a Luger pistol magazine although it releases using a latch mounted on
the bottom of the front grip strap. Matching number "126" marked on the frame, barrel (requires disassembly for viewing), nearly all of the small parts, magazine and handwritten underneath the grips. Two Japanese characters above Japanese patent number "7165" marked on the rear of the frame. These Hino-Komuro pistols are described in detail on pages 22-33 in the book "Hand Cannons of Imperial Japan" by Harry Derby.
CONDITION: Fine overall, retains 40% bright original blue finish flaking to a smooth gray and brown patina on the balance with a few patches of moderate pitting concentrated on the upper left of the frame, and sharp edges and markings in the metal. Grips are also fine with numerous scattered light handling marks and scratches, and mostly visible checkering with some light wear at the edges. Mechanically excellent. This Hino-Komuro Model 1904 pistol is an ultimate rarity in arms collecting, and the missing piece to an advanced Japanese military handgun collection!
Estimate: 35,000 - 55,000
  341
 1 OF APPROXIMATELY 500 HINO-KOMURO MODEL 1904 PISTOLS MANUFACTURED BETWEEN 1904 AND 1912
SIMILAR EXAMPLE PICTURED AND DESCRIBED IN THE BOOK HAND CANNONS OF IMPERIAL JAPAN BY DERBY
   Collector's Fact
Hino-Komuro Model 1904 Pistol with serial
number 184 was the only example
known by author Harry Derby in 8mm, further
demonstrating the rarity of this pistol.