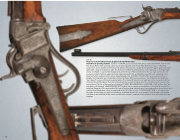 66
 LOT 49
Very Scarce Factory Panel Scene Engraved Sharps Model 1853
Slant Breech Sporting Carbine - Serial no. 11265, 44 cal., 22 inch round bbl., blue/casehardened finish, walnut stock. This Sharps Model 1853 sporting carbine was factory engraved at the Sharps Rifle Manufacturing Co. in Hartford, Connecticut, and is chambered in 60 bore (.44 caliber), with a 22 inch octagon barrel, double triggers, globe and ladder sights with a tang mounted peep sight. The distinctive Hartford factory Germanic scroll engraving, consisting of tight circular scrollwork on a punch-dot background, covers the top of the barrel between the rear sight and receiver, the receiver, lock plate, hammer, upper and lower tang, lever, patch box and buttplate tang. This style engraving is also found on factory engraved Colt revolvers manufactured in the mid-1850s. The left of the receiver does not have a
sling bar and ring which were frequently not fitted to Model 1853 sporting carbines. The carbine has the distinctive "slant breech" receiver with Lawrence pellet primer. The stock and forearm are straight grain American walnut with an iron patch box and buttplate. The barrel is blued, and the receiver, lock plate, patch box, buttplate and lever are color casehardened. The top of the barrel is roll-stamped "SHARP'S RIFLE/MANUFG.CO./HARTFORD CONN" in three lines. The lock plate is roll-stamped "SHARPS/PATENT/1852" in three lines in a panel surrounded by scrollwork with scenery of a waterfowl flying out of the water behind. A scene of hunting dogs taking down a stag is engraved on the patchbox, and hunting dogs taking down a bear are engraved on the left of the receiver. "SHARPS/PATENT/1848" is roll-stamped on
the upper receiver tang in a panel surrounded by scrollwork ahead of the serial number. The matching serial number
is located on the underside of the barrel, rear flat of the forearm, underside of the patchbox door and underside of the buttplate.