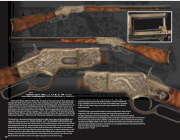 LOT 5
Engraved Copy of a Winchester First Model 1866 "Flat Side" Lever Action Saddle Ring Rifle - Serial no. 14763, 44 RF cal., 24 3/8 inch
octagon bbl., blue/silver finish, deluxe walnut stock. This is a copy of a rare early Winchester Model 1866 First Mode rifle. This style of rifle retains much of the profile and
The serial number is marked on the left side of the lower tang,
inside the upper tang mortise of the buttstock, and on the backside of the buttplate at the toe. The left side of the upper tang is stamped "L.D.N.," and the lower tang on the left is also marked with "1834" in small numerals.
CONDITION: Very good as fabricated to current configuration with distinct
engraving, 70% silver plating remaining showing some aged patina and
verdigris, aged patina on the exposed brass, a blend of blue finish and artificial
brown patina on the barrel and magazine tube, recut barrel markings, and minor overall wear. The wood is very good and has a hairline crack above the screw in the forearm on the left, a repaired break lightly visible on the wrist, some general mild marks and light scratches, and attractive figure. Mechanically fine. Overall, this is a stunning Winchester First Model 1866 "Flat
styling of the New Haven Arms Co. Henry rifles, including a Henry style "flat side" frame with "Henry drop" by the hammer, and also has the early flat loading gates and simpler forearm. In addition to being a copy of a First Model, this rifle has classic "American style" custom scroll engraving on the silver plated frame and buttplate. Similar engraving patterns from Louis D. Nimschke's pull-book are shown on pages 9, 12, 14, 16, 17, and 48 in "L.D. Nimschke: Firearms Engraver" by R.L. Wilson, and other Model 1866s and Henry rifles in the chapter "L.D. Nimschke Independent Engraver" in Wilson's book "Winchester Engraving" show similar patterns as well.
The barrel has a dovetailed nickel-silver blade front sight, Henry type notch and ladder rear sight with sliding elevator, the "HENRY'S PATENT -OCT. 16. 1860/KING'S PATENT-MARCH 29. 1866" dual patent marking, and a blued finish. A full-length magazine tube with screw affixed front hanger and early non-capped forend with cross screw through circular escutcheons are fitted below the barrel. The Henry style flat profiled frame with "Henry drop" at the hammer has beautiful floral scroll engraving with punched backgrounds, an open scroll pattern on the left side as found on Nimschke engraved Henry rifles noted above, gaddrooning, and border designs. The nicely figured buttstock has a rifle buttplate and is secured in the correct First
Side" rifle with beautiful custom engraving. Estimate: 7,500 - 15,000
10 Model fashion with two screws in the upper tang and one in the lower tang.