Page 152 - 86-Book1
P. 152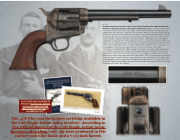 LOT 127
Exceptionally Fine Presentation Cased Colt London Black Powder Single Action Army Revolver in Exceptionally Rare .476 Caliber with Factory Letter - Serial no. 140109, 476 cal., 7 1/2 inch round bbl., blue finish, walnut grips. Forever linked to the American West, the Colt Single Action Army Revolver is arguably the most famous American revolver of all time. But the most famed American revolver was also marketed overseas. Entering foreign markets required chambering the American design in foreign cartridges. Cartridges such as .450, .455 and .476 catered to British customers, and SAAs chambered in these cartridges have become highly sought after by collectors. The .476 cartridge was the largest caliber Colt offered in SAA factory production. To accommodate the rim size of the cartridge, the standard frame had to be cut to achieve more cylinder space. This is the first .476 SAA we have had the honor to catalog, and knowledgeable collectors have easily rated this SAA the finest known in this caliber.
Also known as the Enfield Mark III Ball cartridge, the .476 was introduced in 1881 and phased out in 1887 but continued to be produced at the Woolrich Arsenal until March 1893 and the Dum Dum ammunition factory in India until 1918. The cartridge was used for a short time in British service before being replaced by .455 Webley Mark I. This is an exceedingly rare caliber to find in Colt model revolvers of the era, especially those in the United States. The authors of the groundbreaking book "A Study of the Colt Single Action Army Revolver" count the .476 caliber among the "twelve known calibers that Colt manufactured in the standard SA which had a total production of less than 161 revolvers.
        AS PICTURED AND DESCRIBED IN THE BOOK THE OFFICIAL RECORD OF THE COLT SINGLE ACTION ARMY REVOLVER 1873-1895 BY WILKERSON & HOYT
  150
The .476 Eley was the largest cartridge available in the Colt Single Action Army revolver. According to The Official Record of the Colt Single Action Army Revolver 1873-1895, only 139 were produced in this caliber with blue finish and a 7 1/2 inch barrel.