Page 154 - 86-Book1
P. 154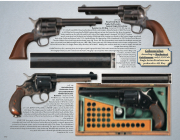 LOT 128
Exceptional Black Powder Colt London
Agency Single Action Army Revolver in .455 Eley - Serial no. 77116, 455 eley cal., 5 1/2 inch round bbl., blue/casehardened finish, walnut grips. Manufactured in 1882. The barrel in .455 Eley has the one-line Pall Mall London address on top, the frame has the three-line patent
dates marking on the left side, and the left side of the trigger guard is stamped "455 CAL/E." London
proofs are present on the barrel and cylinder. Matching serial numbers are found on the frame, trigger guard and back strap. Colt manufactured only 1,150 standard frame first generation SAAs chambered in .455 Eley (see David Brown's
"The 36 Calibers of the Colt Single Action Army," page 38). These .455 Eley Peacemakers were made for the British market and were only made from 1882 through fiscal year 1883-1884. There were only 633 SAA produced in this shown configuration ("The Official Record of the Colt Single Action Army Revolver 1873-1895"). Making this revolver both rare as well as highly desired and
sought after among collectors. CONDITION: Very fine, retaining 60% plus bright original high polish blue finish with smooth brown patina on the balance. 70% original vivid case colors remain on the frame. The grip is also very fine with some high edge wear, minor dings and scratches, and most of the original varnish remaining. Mechanically excellent. A solid representative example of a .455 Eley blackpowder frame SAA for your Colt collection. Estimate: 9,000 - 14,000
    LOT 129
Desirable Early Production Cased Colt London Model 1878 Double Action Revolver - Serial no. 2718, 450 Boxer cal., 5 1/2 inch round bbl., blue finish, walnut grips. Manufactured in 1879, the second year of production. The barrel has the scarce "COLT'S PT. F.A. MFG Co HARTFORD CT. U.S.A. DEPOT 14 PALL MALL LONDON" address and is chambered in .450 Boxer. The trigger guard is marked "45 CAL/B." London proofs are stamped on the underside of the barrel and behind each cylinder flute. Includes a partitioned hardwood case with a Colt London paper label on the interior of the lid and contains an cartridge block, cleaning rod, oiler, and tool.
     152
CONDITION: Very good, retains 60% plus of the original blue finish on the frame assembly and barrel with the balance having thinned to mostly a smooth grey patina, primarily on the grip straps, ejector housing, and right of the frame. The rechambered
replacement cylinder is refinished with most remaining. The grips are very fine with some scattered minor dings and otherwise crisp checkering. Mechanically excellent. The case is very good with some scattered light handling/storage marks. Estimate: 4,000 - 6,000
Collector's Fact
According to The Book of Colt Firearms, only 1,150 Colt Single Action Revolvers were produced in .455 Eley.