Page 158 - 86-Book1
P. 158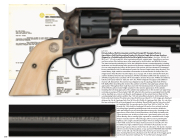 156
LOT 131
Extremely Rare, Well-Documented, and Finest Known ATF Exempted Factory
Smoothbore Colt First Generation Frontier Six Shooter Single Action Army Revolver Shipped to a Prohibition Era Ohio Police Chief with Factory Letter - Serial no. 354096, 44 WCF cal., 7 1/2 inch round bbl., blue/casehardened finish, original grips. Smoothbore revolvers and lever action rifles/carbines were often employed by trick shooters and Wild West shows.
The latter had mostly ended by the 1920s, but exhibition shooters remained popular, including marksmen and sharpshooting ladies sponsored by firearms companies like Colt and Winchester. One can only imagine the history of this historic Colt revolver, the finest known ATF exempted factory smoothbore Colt First Generation Frontier Six Shooter Single Action Army Revolver! This extraordinary, high condition smoothbore Peacemaker is documented in "A Study of the Colt Single Action Army Revolver" by John Kopec et al. on page 180. In their seminal SAA work, the authors identified only two late manufacture .44 WCF smoothbore SAAs with this example, no. 354096, being "the finest condition .44-40 smoothbore known." These two .44 WCF smoothbores left the Colt factory between 1923 and 1931. No. 345531 shipped to magician and exhibition shooter C.M. McCutchen. This revolver was shipped to City of Cuyahoga Falls Chief of Police
R.H. Duffy. When describing this revolver the authors noted "the unusually large cylinder stop approaches." Throughout their study that covers the "tremendous period of mass production"
of the SAA the authors noted "slight variations" in the exterior appearance of the cylinder, including the bolt stop approaches. The cylinder stop approaches on this revolver are larger than normally encountered. The included 1980 ATF letter lists this revolver as exempted from the NFA and as classified as a curio or relic firearm, and it appears on the current Curio or Relic list. The accompanying factory letter confirms the 7 1/2 inch smoothbore barrel in .44-40 caliber, blue finish, and stock material. The letter also states that this was a March 14, 1931 single gun shipment delivered to City of Cuyahoga Falls Chief of Police R.H. Duffy of Cuyahoga Falls, Ohio. It is not often that we catalog an SAA as being shipped to an individual. Russell Duffy was the first police chief
in Cuyahoga Falls. He served as police chief from 1922 to 1946. The 1920s through the 1940s had the Cuyahoga Falls police force actively involved
in busting illegal gambling establishments and moonshine distilleries,
while patrolling the city on Harley Davidson motorcycles. Speaking to the importance of their fleet of Harley Davidsons, Chief Duffy said with pride, "These machines are at daily use and cover a good many miles every day. Officer Moody, after a running fight, captured an automobile with a cargo
of liquor valued at $5,000. Officer Buerger, who has been patrolling the highways, also caught a truckload of liquor." This was during Prohibition (1920-1933) and $5,000 in today's money amounts to over $81,000. This incredibly rare, high condition factory smoothbore Peacemaker is well deserving of a place of honor in the finest of collections. The barrel is marked with the one-line Hartford address on top and "COLT FRONTIER SIX SHOOTER .44-40" on the left side. The left side of the frame has the two-line patent dates marking followed by a Rampant Colt. The left side of the trigger guard has the Colt inspection markings of a "3" and the factory triangle proof.