Page 210 - 86-Book1
P. 210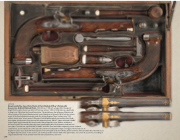 LOT 206
Exceptionally Fine Cased Pair of Arlot of Paris Flintlock Officer's Pistols with
Accessories -A) Arlot Flintlock Pistol - NSN, 65 cal., 7 3/8 inch octagon bbl., blue/gold/
bright finish, walnut stock. Jean Arlot of Paris was active c. 1780 to 1818 and was a gunmaker
to King Louis XVI before the French Revolution. This pistol bears the influence of Boutet and
other artisans of the French Empire period under Napoleon in the early 1800s but also retains
much of the floral attributes popular under the Ancien Regime. These "carbine bore" (.65
caliber) pistols have "micro-groove" rifling, gold inlaid lightning bolts around the silver blade
front sights, inlaid arrows along the top flats (appear bronze), "ARLOT" (upper left) and "A PARIS"
(upper right) in gold towards the breech ends, and gold panels, vases, flowers, and fruit at
the breech ends. The standing breeches have entwining borders, floral patterns, and two-leaf
rear sights. The locks are signed "ARLOT/A PARIS" and have floral and border engraving, nicely sculpted
components, and rounded teats at the tails. The pistols have adjustable single set triggers. The furniture is all
bright iron and is decorated with floral patterns. The full-length stocks have finely checkered wrists with carved borders. The fitted case has highly figured veneer on the exterior, red and black leather interior with some gilt borders, and a suite of accessories, including an
 208 engraved ball mold, ornate powder flask with ball compartment, and more.