Page 212 - 86-Book1
P. 212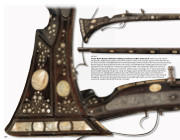 210
  LOT 207
Ornate Dutch Matchlock Musket with Engraved Pearl and Wire Inlaid Stock - NSN, 72 cal., 45 7/8 inch octagon bbl., bright finish, hardwood stock. This musket is similar to the example dated to 1600-1650 from the H.L. Visser Collection in the Rijks Museum in Amsterdam (Object #: NG-2002-23-3). The museum notes that luxury firearms began to be manufactured in the 17th century and embellished for wealthy patrons but are rarely signed. The current musket has a swamped octagon barrel with a brass blade front sight, iron notch rear
sight, attached pan with rotating cover, and fence with decorative scroll edge. The 11 inch long lock plate
has some light engraving. The gun has a large iron trigger guard, nailed sheet brass buttplate and forend
panels, brass wire inlaid borders and floral and scroll motifs along the stock, and a series of mother of
pearl inlays engraved with floral patterns and the same bust of a male figure with a laurel crown repeated throughout. The stock has the large fishtail style butt and right sight thumb rest. The ramrod channel is
enclosed. A wooden ramrod with brass tip is included.