Page 284 - 86-Book1
P. 284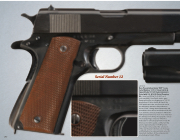 282
  Serial Number 12
  LOT 313
Rare Presentation Grade "EXP" Series Serial Number 12 U.S. Union Switch & Signal Model 1911A1 Semi-Automatic Pistol with U.S. M1912 Pistol Cleaning
Kit - Serial no. EXPNo12, 45 ACP cal., 5
inch round bbl., blue finish, plastic grips. Representing the very beginning of 1911A1 production at Union Switch & Signal, the "EXP." pistols were the very first trial run for the machinery, workers, and production
line at U.S.&S., during which equipment and procedures were refined and prepared for full scale wartime contract production. While the "EXP" pistols themselves were never intended for delivery to the Army, they played a critical role in preparing a company otherwise dedicated to railroad equipment to help fill America's need for quality, combat-worthy pistols. Approximately 100 "EXP" pistols
were made in total, and at the conclusion of the war they were broken out of storage and finished out as a presentation series for important members of the company and selected government officials.