Page 308 - 86-Book1
P. 308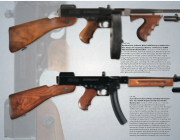 306
LOT 354
Scarce Auto-Ordnance Model 1928 A22 Submachine Gun, Class III/NFA Registered Fully Transferable Machine Gun - Serial no. 215TF, 22 LR cal., 11 1/2 inch fluted bbl., black anodized finish, hardwood stock. Manufactured 1980-1981, this is a variant of the Thompson 1928A1 Submachine Gun scaled down and adapted to
run on the 22 Long Rifle cartridge. The core operating mechanism is open bolt blowback, just like the classic model, though many major components are made with aluminum instead of steel to keep the weight down. In handling and appearance it is a faithful re-imagining, with a fixed blade front sight on the Cutts-style compensator, fluted barrel, and a peep rear sight concealed by the protective wings. Markings are traditional in layout, with appropriate changes for model and caliber. Fitted with a grooved horizontal forearm, pistol grip and a quick detach stock. A magazine well adapter block fits into the drum rails, with one compatible stick magazine provided. A matching hand-numbered shipping box is also included.
LOT 353
Excellent Auto-Ordnance Model 1928 Thompson Submachine Gun, Unique "A" Serial Range Number 11100A, Class III/NFA Fully Transferable Machine Gun - Serial no. 11100A, 45 ACP cal., 10 1/2 inch round bbl., blue finish, walnut stock. Manufactured in the
1970s/1980s as part of the "A" suffix serial range, the Auto-Ordnance 1928 Thompson is virtually a perfect reproduction of the original
vintage "Roaring Twenties" Tommy Gun. One of the signature weapons of the Prohibition Era, the Thompson was one of the great "heavy metal" submachine guns, operating semi or full automatic on an open bolt, fully machined with fine hardwood furniture; the later sheet metal guns may have had them beat for cost effectiveness but not for style. Folding ladder peep rear sight, with the signature Thompson-marked Cutts Compensator and cooling fins on the barrel, a set of contoured pistol grips, and a quick-detach buttstock.