Page 366 - 86-Book1
P. 366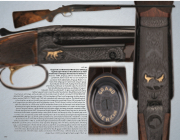 364
LOT 485
Engraved and Gold Inlaid Winchester 28 Gauge "Lightweight" Model 21 Grand American Style Double Barrel Shotgun Two Barrel Set with Case -
Serial no. 17886, 28 gauge, 28 inch vent rib bbl., blue/ gold finish, walnut stock. This is a rare example of a purpose built, lightweight, 28 gauge Model 21 as
most of the 28 gauge 21s were built using 20 gauge barrel blanks bored to 28, making them heavy and unwieldy. According to an included copy of a document
from late Winchester employee and Model 21 expert Edward E. Ulrich an estimated 7-10 guns were built with these lighter tapered barrels near the end of production. Blued Winchester Proof
Steel barrels with single red bead sights on the matted, vent rib which is marked "CUSTOM BUILT BY WINCHESTER", standard barrel markings, 3 3/4 inch wedges of floral scroll engraving at either breech, chokes marked "IMP CYL"/"MOD", and 2 3/4 inch chambers with automatic ejectors. The blued boxlock action displays gorgeous Grand American pattern engraving consisting of near full coverage floral
scroll engraving surrounding four gold inlaid game scenes. The left shows a setter in a field scene, the right has a pointer in a field scene, and the underside shows a pair of pheasant in an upland scene all rendered in highly detailed gold inlays as well as a non-gold inlaid bust of a setter on the trigger
guard. The gun features a gold plated single selective trigger and tang mounted automatic safety switch with gold inlaid "SAFE". Exceptional, highly figured, 21-B pattern fancy fleur-de-lis checkered beavertail forend with engraved fittings, rotary latch release, and ebony tip inlay. The pistol grip stock is of the same exceptional quality with matching fleur-de-lis checkering and engraved and gold inlaid
"GRAND/AMERICAN" grip cap, blank gold inscription oval, and checkered bare butt. Included is a second 28 inch barrel set in .410 with matching serial number and engraving, 3 inch chambers with ejectors, chokes marked "WS-1"/"WS-2", and matching beavertail forend. Included is a Winchester leather bound
takedown case with canvas cover, four snap caps (two 28 gauge, two .410 bore), cleaning tools, two hang tags, a copy of Edward E. Ulrich's Olin ID, and an excerpt from an autobiographical article in the Autumn 1999 issue of "Double Gun Journal". Barrel measurements for the .410 bore set (R/L): choke constriction .005/.006 inches. Barrel and stock measurements for the 28 gauge set (R/L): bore diameter nine inches from the breech .550/.549 inches; choke constriction .005/.009 inches; 1 3/8 inch drop at comb; 2 inch drop at heel; 14 9/16 inch length of pull; weight 7 lbs 6 oz.