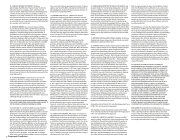 14. FINANCIAL INTEREST IN PROPERTY. Purchaser acknowledges that RIAC has a financial interest in all items offered for sale since it is paid a seller's commission and buyer's premium. Additionally, Purchaser acknowledges that
a conflict of interest may exist because RIAC, its officers or employees, or an entity owned by one or more of them, may have a financial interest in an item offered for sale beyond the seller's commission and buyer's premium, which may include an ownership interest or a guaranteed amount offered by RIAC to a consignor of an item for sale.
15. ABSENTEE BIDDING. As a service to anyone wishing
to place bids in advance of the sale RIAC may accept bids
on behalf of potential bidders at RIAC's own discretion by telephone or sealed bid using the forms RIAC provides. A Sealed Bid must be received and credit approved in advance of the sale date. It is the Bidder's responsibility to establish credit before bidding, or RIAC will accept a 15% deposit in the amount of the total bids submitted. (Deposits will be returned within ten (10) days after sale, if not successful.) A Sealed Bid form is enclosed in the back of the catalog. Bids may also
be faxed to (309) 797-1655. Additionally, online bidding is available on RIAC's website. Purchasers acknowledge that
by bidding absentee via mail, e-mail, telephone, through internet providers, or any other absentee means (i.e., not in person bidding), no fiduciary duty exist between the bidder and RIAC. Purchaser acknowledges that RIAC has a fiduciary duty to the sellers and not to the bidders or purchasers. Purchaser acknowledges that RIAC owes no duty to disclose the ownership of any item being auctioned. Any absentee bid is executed as if the bidder was actually present and bidding themselves. RIAC will attempt to execute bids in a manner such that the bids will prevail at the lowest bid possible. RIAC assumes no responsibility for failure to execute telephone, sealed, or website/online bids for any reason whatsoever or for failure to execute bids such that the bids do not prevail at the lowest bid possible..
16. TELEPHONE BIDDING. In order to bid on a lot over the telephone at the time it is being sold the bidder must contact RIAC in advance to make arrangements. The bidder must contact RIAC by 2:00 p.m. the day preceding the sale
to make arrangements to bid via telephone. If the bidder contacts RIAC after 2:00 p.m. the day preceding the sale, RIAC cannot guarantee that the bidder's bids will be executed.
A representative of RIAC will contact the bidder on the day
of the sale, prior to the requested lot(s) going up for sale. Telephone Bids may be faxed to (309) 797-1655 or they can be submitted through our online service.
BY PARTICIPATING IN TELEPHONE BIDDING, THE BIDDER AND PURCHASER UNDERSTAND, ACKNOWLEDGE AND CONSENT TO THE TELEPHONE CONVERSATION BEING RECORDED.
"Cover-Me Bids": As a Telephone Bidder be aware that there is the risk of RIAC not being able to reach the Telephone Bidder. Therefore the Telephone Bidder may want to consider allowing his or her phone representative to execute bidding on his or her behalf. At the time of arranging for the phone bids, the Telephone Bidder need simply give the maximum amounts he or she is willing to bid on each lot in the event RIAC is unable to reach the Telephone Bidder. This amount is only utilized if the Telephone Bidder is not on the phone with his or her representative. Assuming the Telephone Bidder is reached via telephone, the phone representative will rely on the Telephone Bidder's verbal instructions only. "Cover-me bids" are not mandatory, the Telephone Bidder can place them at his or her discretion. "Cover-Me Bids" are simply a safety net in case the Telephone Bidder cannot be reached in
4 Terms and Conditions
time or not at all. All terms provided under Section 13 above apply to any "Cover-Me Bids", including but not limited to all acknowledgments made by Purchaser and any disclosure of the absence of any duties by RIAC.
17. FIREARMS LAWS. All post – 1898 firearms must be registered in compliance with federal and Illinois state law. Purchasers of post – 1898 firearms must complete state and federal registrations forms at Rock Island Auction Company, 7819 42nd Street West, Rock Island, IL 61201, unless otherwise specified. A 3-day waiting period is mandatory for modern handguns and modern long arms. Dealers and out-of-state purchasers must have in their possession on the day of sale, signed copies of their Federal Firearms License (FFL) in order to accept same-day delivery of modern weapons. Purchasers who act as agents for FFL dealers must have a letter of agency as well as a signed copy of the dealer's FFL.
18. CLASS 3. All firearms designated as Class 3 must be registered in compliance with the NFA registry. Upon purchase, all interstate transfers are done from RIAC to a Class 3 dealer, one with a FFL/SOT License, in your area. There is
not a transfer fee to the buyer at that time. When the transfer is approved, the firearm is shipped to the Class 3 dealer. The Class 3 dealer then prepares a Form 4 transfer to the buyer. The buyer pays a $200 tax stamp fee at that time. The only interstate transfers that can be done to an individual are those where the buyer has a Curio & Relics License and the firearm that is being purchased has been classified by the ATF as a NFA Curio & Relic. A $200 federal tax payment is required
to file the transfer paperwork. This fee, as well as the Total Amount Due is due at the time of purchase in order to process the paperwork. The new owner of the Class 3 firearm will be required to complete 2 forms: 1) ATF Form 4 and 2) fingerprint card. These forms will be provided to you by RIAC. Note: if state or local law requires a permit or license to purchase, possess, or receive NFA firearms, a copy of the transferee's (buyer) permit or license must accompany the application. RIAC then mails the paperwork for the Federal Transfer Tax
to BATFE. RIAC will receive back one of the Form 4's (they
are sent in duplicate) with a Federal Tax Stamp attached to
it. This is given to the new owner upon delivery of the NFA firearm. No further tax is due. Please check the status of your state before you bid or purchase to be sure of your eligibility to own and possess a Class III firearm as the laws continue to change. SPECIAL NOTE: If you are an SOT (Special Occupation Tax) payer (Class 3 dealer) you are able to transfer functional NFA firearms to or from other SOT payers and government agencies with BATFE approval, but without having to pay a transfer tax. RIAC makes no warranties or representations that the above-mentioned forms, fees, licenses and/or approvals will be sufficient for you to own or use your purchased firearm(s). Consult with your federal, state, and local laws, law enforcement personnel, or legal counsel to make sure you may legally own, possess, or use the purchased firearm(s) and that all fees, licenses and approvals are completed.
19. CONDITION OF FIREARMS. RIAC makes no warranties or representations whatsoever and no employee or consultant of RIAC has the authority to do otherwise, concerning the operation of firing condition, fitness for use, safety to store,
or reliability, of any firearm, ammunition, or parts. Use of any firearm or ammunition purchased at RIAC is entirely at the user's risk. RIAC offers for sale the lots as "collector" lots only. RIAC strongly recommends that all weapons, ammunition, etc. purchased at auction be examined by a competent gunsmith. RIAC expressly disclaims any liability whatsoever for accident, injury or damage resulting to any person from the storage or subsequent use of any such lot.
20. ENDANGERED OR PROTECTED SPECIES OR WILDLIFE. Any property made of or Incorporating endangered or protected species or wildlife may have import and export restrictions established by the Convention on International Trade in Endangered Species of Wild Fauna and Flora (CITIES). These items are not available to ship internationally and in some cases, domestically. Additionally, these items may be subject to confiscation by state or federal officials if the proper documentation authorizing their sale is not produced. By placing a bid, the bidder acknowledges that he is aware of the restriction and takes responsibility in obtaining and paying for any license or permits relevant to delivery of the item(s). RIAC does not accept liability for the inability to ship the purchased items or if such item(s) is (are) confiscated by state or federal officials prior to their shipment or transport to the successful bidder.
21. DELIVERY, SHIPPING, AND STORAGE CHARGES. All delivery, shipping and storage charges must be paid by the successful bidder prior to delivery of the firearm.
22. SHIPPING. If RIAC is asked to ship the purchased lots, there will be a separate charge for such shipping. Shipping charges to the purchaser for firearms will be based upon RIAC's standard rates depending on the type of firearm shipped. Shipping rates for all non-firearm lots will be based upon
the size and weight of the item. RIAC's standard rates do not apply to any items shipped to the states of Alaska or Hawaii
or to the Commonwealth of Puerto Rico. All lots shipped
shall be covered by shipping insurance unless the purchaser expressly waives such shipping insurance, in which case
such insurance shall not be provided for any of purchaser's shipped lots. If any packing and handling of purchased lots
is done by RIAC, it is done entirely at the risk of the purchaser. All packages are sent with adult signature required. RIAC is not liable for any acts of omissions in packaging or shipping. Purchased lots handled by outside carriers or packers, including those RIAC may have recommended, may carry
their own insurance and any claims for losses or damages should be addressed directly to the outside carriers or packers. RIAC will arrange for packing and shipping at RIAC's earliest possible convenience. RIAC will attempt to ship as soon as possible; however, due to RIAC's high volume of absentee bids, shipping can take up to two weeks after full payment is received. In the case of crating or any exceptional packaging, the purchaser will be charged RIAC's cost from outside agents. Purchaser pays shipping, packing materials, and insurance charges. Purchaser acknowledges and agrees that RIAC reserves the right to purchase its own shipper's insurance, to be self-insured if RIAC determines such insurance is necessary in RIAC's sole and absolute discretion.
Ammunition lots will ship to FFL's only. If picking up must have FOID or FFL. All state and local laws apply.
The shipping of any purchased items outside of the United States is hereby classified as "foreign export". All foreign export is the sole responsibility of the purchaser.
23. DISPUTES UNDER THIS CONTRACT. Purchaser and RIAC agree to mediate any dispute or claim arising between them resulting from the purchaser participating in the auction or any resulting transaction, with the exception of the failure
of the purchaser to make full payment of the purchaser's obligations to RIAC. In the event the purchaser fails to make full payment to RIAC, RIAC may, but is not required to, proceed directly to court. Furthermore, the purchaser and RIAC agree that should Mediation be necessary, Mediation fees, if any, will borne equally by the parties. Purchaser and
RIAC are required under the terms and conditions of sale to enter into Mediation before arbitration or any court action. Should a party commence legal action other than Mediation without giving written notice to the other party, the party so commencing the legal action will not be entitled to recover attorney's fees even if they would otherwise be allowed in the action. All mediation, arbitration and court proceedings, whether in state or federal court, shall be filed and conducted solely within Rock Island County, State of Illinois, and not in any other jurisdiction.
Should Mediation not settle the dispute between the parties the purchaser and RIAC agree that any dispute or claim, in law or equity, resulting from the participation in the auction or any resulting transaction shall be settled in neutral binding arbitration utilizing the standards of American Arbitration Association and must be initiated and carried out in Rock Island County State of Illinois. Any bidder or purchaser
agrees that the election of restricting any and all claims
to Arbitration is a voluntary decision and is evidenced by
the bidder or purchaser's participation in the auction. The purchaser specifically agrees to the following: I have read
the terms and conditions of sale and by my participation in this sale I agree all disputes arising out of my participation will be first submitted to Mediation, and if Mediation is not successful in resolving the dispute I then submit to neutral binding Arbitration with RIAC and any other entity under this contract. No lawsuit shall be filed until a person has in good faith completed all Mediation and Arbitration proceedings as required hereunder.
24. LIMITATION OF LIABILITY. EXCEPT AS EXPRESSLY
PROVIDED ABOVE, ALL PROPERTY IS SOLD "AS IS". NEITHER ROCK ISLAND AUCTION COMPANY NOR THE CONSIGNOR MAKES ANY REPRESENTATION OR WARRANTY, EXPRESS OR IMPLIED, AS TO THE TITLE, MERCHANTABILITY, FITNESS OR CONDITION OF THE PROPERTY OR AS TO THE CORRECTNESS OF DESCRIPTION, GENUINENESS, ATTRIBUTION, PROVENANCE OR PERIOD OF THE PROPERTY OR AS TO WHETHER THE PURCHASER ACQUIRES ANY COPYRIGHTS OR OTHER INTELLECTUAL PROPERTY RIGHTS IN LOTS SOLD OR AS TO WHETHER A WORK OF ART IS SUBJECT TO THE ARTIST'S MORAL RIGHTS OR OTHER RESIDUAL RIGHTS OF THE ARTIST. ALL FIREARMS AND AMMUNITION ARE SOLD AS COLLECTOR LOTS ONLY. FITNESS TO FIRE OR OTHERWISE DISCHARGE
THE ARM OR AMMUNITION IS EXPRESSLY DENIED BY ROCK ISLAND AUCTION COMPANY. A COMPETENT GUNSMITH SHOULD BE CONSULTED BEFORE ATTEMPTING TO USE OR FIRE ANY FIREARM OR AMMUNITION. THE PURCHASER EXPRESSLY ACKNOWLEDGES AND AGREES THAT IN NO
EVENT SHALL ROCK ISLAND AUCTION COMPANY BE LIABLE FOR ANY DAMAGES INCLUDING WITHOUT LIMITATION ANY COMPENSATORY, INCIDENTAL OR CONSEQUENTIAL DAMAGES.
DISCLAIMER: Rock Island Auction Company does not guarantee the authenticity of any German Military item being sold in a Sporting & Collector and Arms & Accessories Day auctions. All German Military items described in the Sporting & Collector and Arms & Accessories Day Auction catalog are to be considered post World War II items and therefore bidders are strongly cautioned to bid accordingly.